Regular price
Sale price
$16.95 USD
Unit price
per
Sale
Sold out
Our premium, 5 year ripe Jujube Puerh tea comes from the Yunnan Dayeh variety of tea . Our tea trees grow naturally and the tea is hand-picked and fermented without additives.
Bag Size: 20 Individually Wrapped Tea Cakes
Cups Of  Tea: 60+ (reuse tea cakes for multiple cups)
Region: Yunnan Province, China
Ingredients: Jujube Puerh
Share
View full details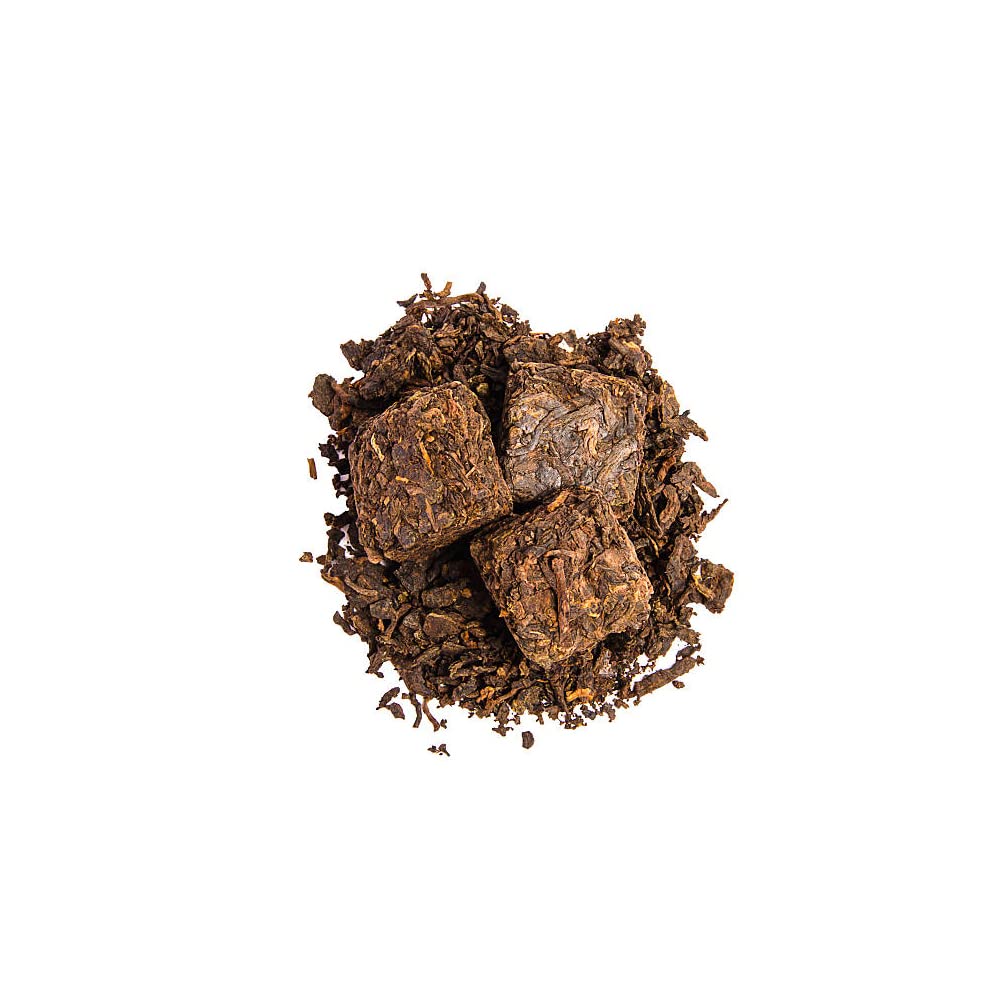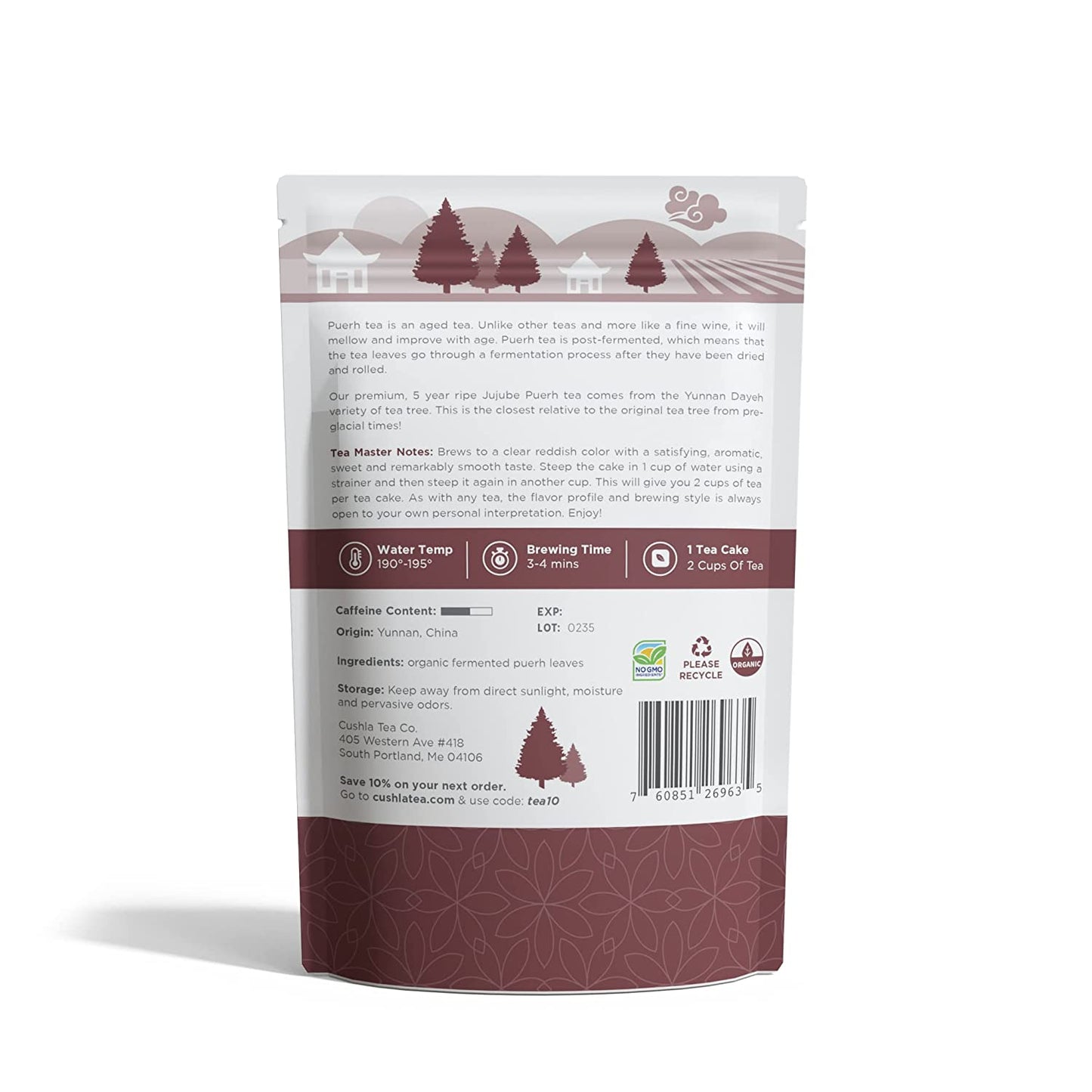 Very Interesting Tea
I have to thank Cushla Tea for giving me a chance to try both Raw and Ripe Pu-erhs. It was a very interesting experience and while the Raw Pu-erh with its bitterness and strong grassy/hay flavor is probably not my cup of tea, I found the Ripe Pu-erh to be much more enjoyable. True to everyone's word, the Ripe Pu-erh is completely void of bitterness, in fact strikingly so after having a number of cups of the Raw Pu-erh. It also seemed that the small cakes opened better for the Ripe Pu-erh than the raw cakes which made two very consistent cups of tea where the Raw made one weak and one stronger cup.
Taste Profile: For me, there is still a strong haylike taste that brings me back to days of visiting ranches where that warm scent permeated the coral. There is also a good sweetness which I could not put a flavor to. It was just a pleasant sweetness that seemed associated with the grassy/hay taste.
Aroma: Again, strong memories of ranch and timothy or alfalfa hay. Nostalgic and pleasant. At times I picked up a bit of what I would consider a fishy whiff, weak but present. After googling that I found that the fermentation does create Trimethylamine which is what makes fish smell. Interesting, but not enough to put one off on the tea. Personally, I could smell this all day thinking of afternoons of saddling up horses.
Liquor: This produced a rather dark reddish tea, beautiful deep clear color. Like I said, the leaves opened well on the first steep and infused fully in just under three minutes. Body was full and creamy.
All in all, I am very happy with this tea. I will definitely finish the bag although I don't know that I'm a Pu-ehr devotee. But with the cake, the fermentation, and taste, it is a fascinating tea to steep. If you had to pick Raw or Ripe, I would totall lean toward Ripe.
Decent flavor and convinient package. A bit pricey.
The tea flavor is authentic and right on point. Very rich and lasting flavor.
The small individually wrapped tea cakes are particularly easy to use compared to the large brick. However, the convinient packaging comes with a hefty cost where this costs almost twice of the round pill style mini cakes.
This is not very cost effective if you enjoy puerh regularly. On the other hand, if you only have a pot or two occassionally, maybe the individual packaging worths it for keeping things fresh for longer.
Absolutely fantastic…
I am a big fan of Puerh teas. I start each day with a hot, steaming mug of it in various varieties so I was looking forward to trying this and it fires on all cylinders.
Pre-measured squares you drop into an infuser. Let steep for 2-3 minutes and serve.
Even with a full 16oz of boiling water, the flavor was rich and delicious. I was very impressed and this bag will not last long.
I even compared it to my normal go to brand which had vanquished all others in comparison but this one managed to be just as good if not a touch better.
5/5
Refreshing boost
I like that this tea makes 2 cups, that way my wife and I can enjoy a cup together. I could see if you steep it too long it becoming bitter. The tea steeps very dark even in the 3min30sec range. I find it refreshing and lightly sweet on my tongue with a slight bitterness left in your mouth after. It is fragrant and pleasant to smell in the pack and steeped. I had this ginseng tea that would leave my mouth tingle and slightly numb, this tea makes my gums tingle but not numb. I don't think this need any honey or sweetener. It is hard to quantify how the caffeine makes me feel but I probably won't drink this after 6pm if I want to go to sleep on by 10p. Overall satisfying tea that doesn't need to be sweetened to drink.
Nice tea
I usually don't drink puerh tea, but I've liked the oolongs and other flavors I've ordered from this brand so I thought I'd give this a try. The rich, earthy flavor is unique and so different from any other tea I've had before. It's perfect for when I want something a little more robust than my usual cup of green tea. I also appreciate the potential health benefits that come with drinking pu-erh, like aiding digestion and promoting heart health. This also has a smooth and velvety texture with just the right amount of bitterness. It's not too overpowering and I find myself enjoying it more with each cup.